ABOUT US
Firm History
| | |
| --- | --- |
| May 1980 | Establishment of Sanyu System Jutakuyushi Corporation for the purpose of delivering real estate appraisal and survey services |
| March 1983 | Establishment of Osaka Sanyu System Corporation (restructured into the Osaka branch of Sanyu Appraisal Corporation in July 2007) |
| October 1989 | Establishment of Nagoya Sanyu System Corporation (restructured into the Nagoya branch of Sanyu Appraisal Corporation in July 2007) |
| November 1996 | Establishment of Sanyu System Research Institute for the purpose of researching trends in the real estate appraisal industry, and gathering and analyzing of information on real estate markets |
| July 1998 | Formation of a business alliance with Joseph J. Blake and Associates, Inc., an industry-leading real estate appraisal firm in the United States |
| February 2000 | Change of corporate name to Sanyu Appraisal Corporation |
| December 2007 | Formation of a business alliance with Daeil Appraisal Board Co., Ltd., a top-tier real estate appraisal firm in Korea |
| December 2010 | Formed a business alliance with Agency for Real Estate Affairs Co., Ltd., a top-tier real estate appraisal firm in Thailand |
| December 2011 | Opening of a Tohoku Branch in Sendai-shi, Miyagi |
| October 2020 | Merged a subsidiary company, Kudan Real Estate Appraisal & Research |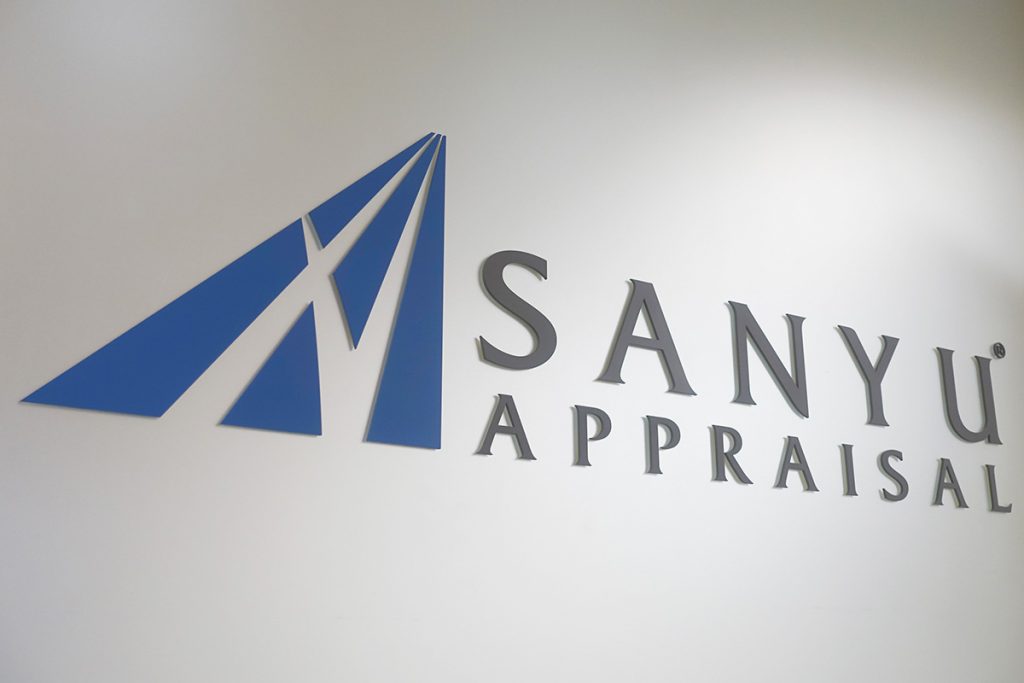 Firm Profile
Corporate Name
Sanyu Appraisal Corporation
Corporate Address
4th Floor, Hirakawa-cho Daiichi Seimei Bldg.1-2-10 Hirakawa-cho, Chiyoda-ku, Tokyo, 102-0093 Japan

Representative
President: Takuya Domen
Phone
+81-3-5213-9750 Main
+81-3-5213-9792 For questions or requests about real estate appraisal & survey
Branches
Osaka Branch:
15th Floor, Senba Diamond Bldg. 2-1-30 Kyutaro-cho, Chuo-ku, Osaka-shi, Osaka, 541-0056 Japan
Phone: +81-6-6266-0240

Nagoya Branch:
12th Floor, Nagoya Fushimi Square Bldg. 1-13-26 Nishiki, Naka-ku, Nagoya-shi, Aichi, 460-0003 Japan
Phone: +81-52-201-1651

Tohoku Branch:
6th Floor, SS. Sendai Bldg. 4-7-17 Ichiban-cho, Aoba-ku, Sendai-shi, Miyagi, 980-0811 Japan
Phone: +81-22-748-7358
Affiliate Companies
TAS Co., Ltd. (Web-based Desktop Real Estate Appraisal)
Capital
1 hundred million yen
Employees
Approx. 100
Services
Real estate appraisals, surveys, market price valuations and market surveys
Plant and equipment appraisals, home inspections
License/Registration
Government Registered Real Estate Appraisal Company
Government Registered Real Estate Business
Government Registered Architectural Design Industry

Membership
Royal Institution of Chartered Surveyors (RICS)
Japan Association of Real Estate Appraisers
Tokyo Association of Real Estate Appraisers
Osaka Association of Real Estate Appraisers
Aichi Association of Real Estate Appraisers
Miyagi Association of Real Estate Appraisers
Association for Real Estate Securitization
Tokyo Real Estate Association
Osaka Takken Association
National Association of Real Estate Transaction Guaranty
Tokyo Society of Architects & Building Engineers
Tokyo Realtor Co-operation
Japan Association of Real Estate Counselors
Certified Appraisers
In-house: 30 appraisers including MAI and MRICS
Outside: 380 affiliated real estate appraisers throughout Japan
ARES Certified Masters
8 masters
Overseas Partners
United States : Joseph J. Blake and Associates, Inc.
Korea : Daeil Appraisal Board
Thailand : Agency for Real Estate Affairs Co., Ltd.